Innovative Ways to Highlight Your Nonprofit's Mission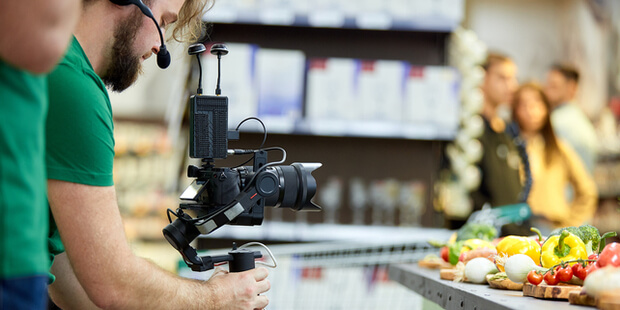 Your nonprofit's mission is the reason behind all of your organization's actions. Essentially, it's why you do the important work that you do for your cause. Your mission is also what draws supporters to your organization and the reason that they donate. In fact, according to 360MatchPro's fundraising statistics, 90% of millennials donate because of a mission rather than a specific organization.
To earn those donations and find new supporters, it's important to creatively highlight your mission in both marketing materials and regular communications with existing donors. If you're looking for an innovative way to share your mission with your audience, consider these three methods:
Create a video for your nonprofit
Design your website around your mission
Share your story on social media
Whether you're starting a brand new nonprofit or are just updating your marketing materials, it's important to frequently spotlight your mission to build strong supporter relationships. Focus on why your organization exists, and consider these ideas to express your mission effectively.
1. Create a video for your nonprofit
If you haven't explored video marketing, it's an opportunity to capture supporters' attention in a fast and engaging way. Videos can be altered to fit any nonprofit's needs, from PSAs that quickly spread awareness of an issue to organizational videos that tell your nonprofit's story. We'll cover a few different ways that your nonprofit can incorporate videos into your marketing strategy.
Share your origin story
Organizational videos illustrate the story of your nonprofit's founding to the public. These videos show viewers the reason why your organization started and the impact you've made so far.
Recount real stories or record testimonials from constituents, staff, or volunteers to showcase your nonprofit's impact. Volunteers who regularly devote their time to furthering your mission can be some of the best people to explain its importance. Ask volunteers to send video clips explaining why they volunteer, or record short interviews at your next volunteer event to collect material for the video.
Along with explaining your mission, give concrete details about the impact you've already made toward your organization's goals. Emphasize how donors' support made that impact possible, then look to the future of how much more you can achieve with continued support.
Educate supporters about your cause
Along with telling your organization's story, videos can be educational for your supporters and the wider public. Create educational videos to spread awareness of key aspects of your cause to new audiences. Or, explain facets of your mission in more detail to encourage existing supporters to connect more with your cause.
Consider the different benefits of these three types of educational videos that your nonprofit could create:
PSAs. A public service announcement can get the word out quickly to a specific audience about an urgent issue that needs attention. These videos are typically short, concise, and targeted.
Explainers. Use graphics or animation to explain a complex process or phenomenon related to your cause. If supporters have a hard time understanding certain aspects of your mission due to complicated scientific concepts, for example, explainer videos can be especially impactful.
Story videos. Educate viewers about an aspect of your nonprofit's cause by telling the story of one of your beneficiaries. Showing your supporters a personal story of how your organization helped someone can be one of the best ways to illustrate your mission.
Tectonic Video's guide to educational video production goes into more detail about each of these types of educational videos and provides examples to see these ideas in action. If you decide to create an educational video, start by watching other successful nonprofit videos for inspiration.
2. Design your website around your mission
Your nonprofit's website is a natural place to get creative with the ways you explain your mission. Your mission needs to be clear and prevalent across your website, so you have plenty of room to highlight your mission in different, compelling ways. Let's explore a few ways to do so.
Optimize your donation page
To secure donations, it's critical to engage donors on your giving page. What better way to engage donors than by reminding them why they're donating?
Follow these best practices to highlight your mission on your donation page itself:
Pair suggested donation amounts with tangible impacts. For example, a $10 donation provides dinner to a family in need.
Write a short paragraph explaining the purpose of the fundraising campaign and who the money will directly benefit.
Discuss your mission more broadly on the confirmation or thank you page that a user sees after donating.
Make sure your donation page is accessible, functional, and mobile-friendly so all supporters can access your donation experience. By putting inclusivity at the forefront of your donation page strategy, supporters will be grateful for the positive user experience and therefore more likely to give.
Use images and videos
Images, graphics, and videos can be more emotionally impactful than text alone. Especially on your nonprofit's homepage, it's important to highlight your mission visually so new site visitors can quickly understand your organization's work and impact..
Choose images and videos that represent the core of your mission clearly. When creating or choosing the main visuals for your website, follow these tips:
Stay positive. Graphic images that emphasize the problem at hand can easily overwhelm your supporters and lead to empathy fatigue. Instead, choose images that evoke positive emotions and emphasize the success of your nonprofit.
Provide alt text. Follow website accessibility best practices to ensure that you don't lose any supporters who may not be able to see your visuals. Specifically, ensure that you write alt text, or alternative text, describing each image so that your visuals can make an impact on everyone who visits your website.
Be mindful of load time. Adding too many images and videos can slow down your page and lead to a negative user experience. Choose your visuals carefully, focusing on the images and videos that best illustrate your mission to new supporters.
If you decide to create any of the video types we discussed earlier in the article, embed the video into one of your website's main pages. For example, add an organizational video to your "about" page or an explainer video to a blog post.
3. Share your story on social media
Social media has rapidly become an essential part of nonprofit marketing, but that doesn't mean there aren't still plenty of ways to use social media innovatively. Evaluate your current social media performance, then consider incorporating these techniques into your strategy.
Use multiple platforms
A comprehensive social media strategy should include a variety of communication channels to reach a wider audience. Use a mix of different social media platforms in combination with email and direct mail. Analyze donor data and engagement metrics to see where your current supporters are online, and consider your target audience so you can craft content tailored to their interests.
You can then leverage your social media profiles to bring attention to your donation page, volunteer sign-up form, or any other relevant pages by including links in your caption or social media bio. Post visuals from your website on your social media accounts to expand your reach and ensure that you're making the most of your content creation efforts. To build your following, add a section to your email newsletters promoting your social media accounts.
Experiment with different types of content
Social media platforms add new features constantly that your nonprofit can take advantage of. There are a wide variety of types of content you can create to market your nonprofit that are specific to each social media platform. Don't be afraid to experiment! You can try out:
Interactive Instagram stories
Longform YouTube videos
Shortform TikToks or Instagram Reels
Long text posts on Facebook
Short announcements on Twitter
Use engagement metrics to see which types of content, and the social media platforms, your supporters like best. Then, you can target specific segments of your audience with your content and tap into their unique motivations for supporting your nonprofit.
---
If you have room in your budget and want to reduce pressure on your staff, you can partner with experts in the marketing sector. From social media marketing agencies to nonprofit-specific video production companies, there are plenty of avenues you can research to assist you. Regardless of which resources you use, these tips will help you communicate your mission more effectively throughout your marketing materials.