Nonprofit Spotlight: Project U First
Have you ever talked to someone you have never met, then walked away from the conversation inspired and motivated, with a huge smile on your face for the rest of the day? That's what talking to Erica Wright, Founder of Project U First is like. She shared her story with me this week, and now I'm compelled to share it with you because I know you'll love it too. And I probably don't even know you. That's how cool she is.
What is Project U First?
Project U First supports some of the most vulnerable members of our community – the homeless and children living in poverty – by providing them with basic hygiene products that most of us use every day without thinking twice. Their tagline is Helping the Homeless with Love. Erica Wright founded Project U First six years ago after seeing a woman washing her hair under a bridge, and in that moment, she knew she would help homeless people get clean. Wright is a spiritual woman who has seen visions of her future throughout her life. She now realized this was her purpose. She had seen some donated hygiene products at her church, but they were in a box and nobody was doing anything to distribute them. So, Wright put the products in a bag, got in her car and drove around until she saw a homeless man. She stopped the car, got out and handed this man the bag. In that moment, she knew her life was forever changed.
How did Project U First grow?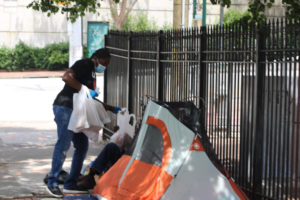 Wright clearly has a similar effect on others that she had on me recently – she's a good talker, a good networker and she has faith that what is supposed to happen will happen, even if she can't see the path. She had no financial foundation, so she began using social media and tagging some of the donors of her early hygiene goods to show them the good she was doing/encourage them to donate again and share her mission with others. She used her own talent behind a camera to show these stories through pictures. She used Volunteer Match to get new volunteers, often those who worked at big corporations. She'd talk to them and make a connection. One such Delta Airlines volunteer offered her use of the Delta Box Truck after learning she'd been distributing the hygiene products from her own car. From that Delta connection, she had other Delta employees from other parts of the company wanting to help and volunteer. Delta was going to retire and discard over a huge number of older blankets from their airplanes, and a flight attendant worked with Wright to get her the cleaned blankets, so she could distribute them to the homeless. Wright has many more stories like this…in other words, she was scrappy and shared her authentic story and vision to get her mission going any way she could.
What is Project U First's impact on the community?
Project U First has two main programs:  "Love to the Streets," where they deliver hygiene kits to foster homes and the homeless, and "U First Kidz Closets," where they provide basic hygiene products to low-income, Atlanta-area schools. The Nonprofit has distributed over 100,000 health & hygiene kits, over 100,000 pairs of socks and over 220,000 blankets. Their work is focused in Atlanta, though they have served communities in 20 states already, with a vision to grow bigger.
Have you seen an impact from having a 48in48-designed website?
The website is better than anything the Nonprofit has ever had. The work the 48in48 volunteers put into their website was amazing, and Wright says the creativity they infused was more than she ever could have dreamed about! They helped her add her impact numbers, since people are looking for a story and Project U First has quite a story to tell. The volunteers collaborated with Wright every step of the way to make sure the website was tailored to the Nonprofit. Now Wright uses the website as her main marketing tool – she sends people directly there to sign up to volunteer, donate, add comments, learn their story. She is thrilled.
Everyone will want to know…what is your Tyler Perry van story?
Remember that Wright has seen visions of her future? She takes the idea of a vision board to the extreme. She writes her visions on index cards and sometimes uses photographs to complete her visions. She had a vision about getting a van, and she had a photo of her perfect Project U First van on the wall for about two years. Since the pandemic began, Wright was initially worried her Nonprofit may not survive, and she submitted her story to WSB, the local ABC affiliate station in Atlanta. WSB selected Project U First and interviewed Wright once, after which the Nonprofit received several new donations. WSB came back again asking to do another story. She agreed, but the story got a bit buried in the news in the wake of recent protests. She was pulling together more hygiene kit bags by herself one evening, and her telephone rang. She decided to answer, and it was Tyler Perry himself calling! She immediately started crying though he'd barely said a word. She was so happy that her story was reaching people. Perry had seen her on TV, and he had once been homeless. He asked Wright to share her story with him about Project U First and the good work they do. He asked her what things she needed. They bonded, learned from each other, and hung up the phone. Soon after, Wright got another call, this time from Perry's assistant, telling her that Perry was buying her ideal van for Project U First!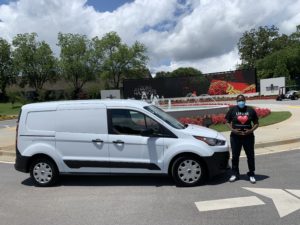 How can our readers get involved with Project U First?
Visit the website to learn about volunteer opportunities, donate financially, donate needed hygiene supplies, connect your corporation for ways to support, and more. Despite the pandemic, the Project U First team is out in our communities, safely helping the homeless with love. They would love to receive help and support from you!