Nonprofit Spotlight: Common Good Atlanta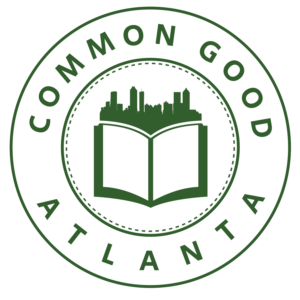 What is Common Good Atlanta?
Common Good Atlanta (CGA) provides people who are incarcerated or formerly incarcerated with access to higher education by connecting Georgia's colleges and professors with Georgia's prison classrooms. The Nonprofit believes that broad, democratic access to higher education for people affected by incarceration strengthens the common good of our communities.
How do the classes work?
Professors and colleges/universities form a volunteer network that the Nonprofit relies on to hold classes, both virtually and in-person, to Georgia prisoners. They focus on literature, writing, history, art, science, math and philosophy.
Prisoners can seek college credits through their courses to gain a well-rounded education in critical thinking and humanities. CGA loves to see alumni who are released and then get into different colleges to continue their education post-prison. Formerly incarcerated students can also choose to take continuing education 6-8 week-long courses. Today, over 100 professors from area colleges and 700 incarcerated students have joined together, participating in a liberal arts education.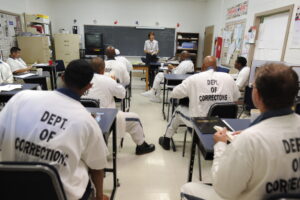 What's the latest at Common Good Atlanta?
CGA is back in the classroom in person at four different Georgia facilities. CGA also runs a downtown Atlanta location for formerly incarcerated people that is currently running virtual classes but will get back to in-person in the future as well. During Covid, they have used "the packet system" – creating workbooks for students to read and respond to, but there were no in person interactions. Meanwhile the leadership of CGA continues working with different Georgia colleges and universities, creating those relationships and collaborations to improve their education system.
What is the upcoming documentary film?
Breaking Down the Walls of Mass Incarceration, Common Good Atlanta is written by Hal Jacobs and CGA Alumna, Janine Solursh. It tells the story of Sarah Higinbotham who was pursuing her Ph.D. at Georgia State University in 2008, and decided she wanted to teach a literature class at a prison, but discovered that no such program existed. So she created one, and it became Common Good Atlanta. Check out the trailer and website for the film here!
How did 48in48 help CGA?
As Director of Operations for the past year, Lindsy Haworth ran point during this past summer's 48in48 Social Justice event as CGA's representative collaborating with the 48in48 volunteers to design and build a new website. Haworth says their volunteer team was really great at listening to what CGA wanted to do; the volunteers took that story and turned it into a beautiful website. She had fun seeing them work together and come up with a beautiful, cohesive website at the end of the weekend.
"It was very honorable to help Common Good Atlanta create a better platform for what we're doing."

Lindsy Haworth
Hearing the stories of formerly incarcerated people or speaking to people who are actively incarcerated inspires Haworth. The meaning of education for them is so grand, and many of them have lacked opportunities previously, so their ability to engage and improve themselves is heartening.
Give the gift of education
If this story inspires you, consider giving the gift of education to incarcerated or formerly incarcerated people. Your dollars will go to a good cause, helping people take control of their lives and overall contributing to the common good.