48in48 Volunteer Spotlight: Daniel Dartnell
Who is Daniel?
Daniel Dartnell lives in Atlanta and works as a Cloud Security Program Manager for Equifax. In that role, he thinks strategically to solve problems and ensure smooth sailing in the present and the future. Daniel also serves as the volunteer Global Program Director for 48in48, which means that he literally ran the show at our recent 1st-ever Global Virtual Event October 2-4, 2020. As Program Director, he manages every detail from onboarding Sponsors to assisting Nonprofits to coordinating teams of Volunteers, not to mention owning all event logistics.
How did Daniel start volunteering?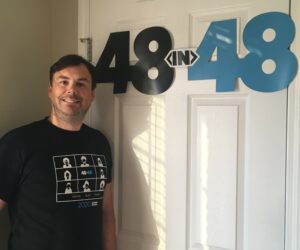 Daniel's volunteer roots began as a high school student in Australia where he participated in the Duke of Edinburgh Award which encourages student volunteerism. From that experience participating to help his broader community, he realized he was developing himself while he was helping other people. And it feels great! 
Fast forward to a couple of years ago. Daniel was working with 48in48's Executive Director Sima Parekh on launching a data center through their day jobs, and Sima realized they worked really well together and that Daniel had the kind of skills critical to making 48in48 events so successful. Sima asked Daniel to participate as a Project Manager at the Miami Super-Service event in 2019, and he's never looked back. Daniel volunteered as a PM on one team during a weekend event, and since then he's expanded his role to what it is today at 48in48.
Why does Daniel continue to volunteer for 48in48?
The people running the Nonprofits and the work they do to make a difference for their chosen causes inspire him. To be able to contribute by bringing his PM skills to help build websites for so many Nonprofits opens his eyes to other parts of the community and the world.
What is the Global Program Director role?
As Program Director, Daniel is responsible for every detail of a 48in48 weekend hackathon-style event. And since the most recent event was 48in48's 1st-ever Global and Virtual event all at the same time, he had his work cut out for him. We're talking teams of Volunteers – a Global Planning Committee, a Marketing Committee, Regional PMs and more, all working on logistics, technology, the experience, and more. For this particular event, 48in48 was able to help 63 Nonprofits, and that takes a lot of upfront preparation and guidance, qualifying, checklists, answering questions and more. There are also Sponsors and Partners who are anxious to contribute and help, so Daniel must help identify the best ways for them to do so while ensuring that 48in48 provides good exposure back for them. 
It's only been a couple of weeks since the event happened, and Daniel is off to the races planning to make the next 48in48 event an even better experience for our Volunteers, Nonprofits and Sponsors. He says it's inherent – that he is always considering the future, thinking about scalability, how to make things run more smoothly, how to most effectively provide the tools and resources needed for all participants, etc.
Daniel admires and respects the 48in48 Volunteers.
Daniel wants to thank all the Volunteers for the recent global event. They built some awesome websites that have helped take 63 Nonprofits to the next level. There was an army of Volunteers who helped shape and plan the event, then an additional 350+ Volunteers who showed up (virtually) to build websites over a 48-hour period. We wouldn't have been able to help a single Nonprofit without them, so he wants to thank them all emphatically!
What does Daniel say to those considering volunteering for 48in48?
A volunteer should have both the enthusiasm and the time to commit. If you're interested in learning about other communities and opening your eyes to see what they need, you can bring your marketing or technical skills to benefit Nonprofits in those communities. The benefits to the Volunteer include that he/she will see and learn about others they wouldn't have otherwise engaged with, meet like-minded Volunteers, and learn more about building websites through tutorials, training, and coaches. 
"It's the give and take – we ask for your skill set for a weekend, and you take away life experiences, enhanced skills and a wider network to support you and help develop you as a person."
Won't you sign up to volunteer with us today?
Connect with Daniel on LinkedIn.