48in48 Nonprofit Highlight – September 2019
Atlanta Rescue Dog Cafe – Bringing an end to Atlanta's pet overpopulation and animal cruelty problems with a unique approach
Atlanta Rescue Dog Cafe  was founded less than two years ago, yet they are well on their way to making tangible progress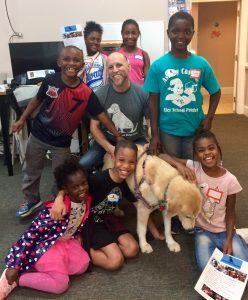 towards their mission. The organization aims to bring an end to Atlanta's pet overpopulation and animal cruelty problems through innovative and engaging humane education programming. So far, these humane education programs have reached more than 10,000 Atlantans – that's over 500 people per month, many of whom are children and in under-served communities. One of the programs is the One Leash Project, where participants learn to make dog leashes from re-purposed climbing rope. This program has kept more than 2,200 pounds of material from entering landfills. Many of the leashes made are donated to local firefighters and police officers, and Atlanta Rescue Dog Cafe trains them on how to secure loose pets in emergencies so they can be safely returned to their owners and kept out of shelters.
Please watch this video to learn more.
With such a great cause, you may be wondering where this cafe is.
Great question! Atlanta Rescue Dog Cafe has its name because a cafe is where conversation happens, and where people build a community. That's exactly what this organization is doing – generating conversation around what the community can do to promote positive human-animal relationships in order to prevent more animals from ever needing to enter a shelter. Their programs today take place in educational, community and corporate settings, and they aim to one day have a non-profit cafe with dedicated educational space and a senior dog sanctuary.
How has 48in48 impacted their mission?
Atlanta Rescue Dog Cafe has been able to reach and engage many more people due to the redesigned website the 48in48 volunteers created for them. Their content is more engaging and helps better tell the organization's story as well as the scope of their impact. They've learned more about using digital marketing and technology, and they continue to learn from the 48in48 team.
What do people say?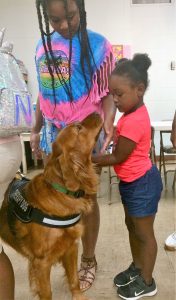 "Thank you again for coming out to our Girl Scout Troop #15225 and leading an amazing program!  We had thought it would fulfill the girls 'animal' project but it covered so much more…Having the therapy dogs on site to show appropriate animal/person interaction was definitely very memorable for the girls (and they are still talking about it)…the added dimension of community service and introspection by having them dedicate and donate the leashes they made [was awesome]. It was an amazing hour that our troop found enormously useful. I know our girls learned a lot from the One Leash Project and I highly recommend it to any youth program or educator." -Cas P.
How can you get involved?
Atlanta Rescue Dog Cafe has several upcoming events this fall, and they are always looking for volunteers to help at the events or get their humane education programs into more schools, scout troops, youth organizations and corporations.
Upcoming Events:
September 4 – King of Pops Good Vibes Market (on DeKalb Ave. in the O4W, 6:30-8pm)
September 21 – The Old 4th Ward Festival
September 28 – The East Atlanta Village Strut
October 5-6 – Candler Park Fall Festival
October 5 – Best Friends Strut Your Mutt in Grant Park
October 19 – Ride for the Rescues at Lake Lanier
October 20 – Ray Day at Serenbe
Reach out via the website contact form if you're interested in volunteering. Or look out for Atlanta Rescue Dog Cafe at any of these events to say hello and learn more. If you have specific skills (photography, videography, web design, etc.) that can help them tell their story, they would love to hear from you as well! You can also follow them on Facebook and Instagram, and share their stories and posts to help spread the word and make an even bigger impact.