Women's Build Event 2022 Recap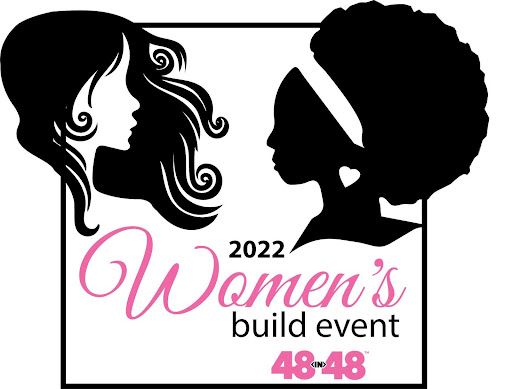 A Letter from the Event's Assistant Program Director 
written by Cheryl Budzinski
Hello all you wonderful people!
WOW! What a weekend! First off, l want to thank all the volunteers and sponsors that contributed to this year's Women's Build Event as we couldn't have pulled this off without you.
Our weekend kicked off with Dr. Kamel Hothi as our keynote speaker. Inspiring words from a woman leader in a male-dominated industry. Dr. Hothi mentioned that volunteering helps you to "find your purpose" and "boost your confidence," which I wholeheartedly agree with. She went on to mention it was her curiosity that drove her innovations. Simple but effective ways to enrich your life and others. Our keynote and Impact Lab speakers this weekend covered 9 time zones spanning the UK to the US West Coast. Dr. Hothi presented from the UK, the US was covered by Denise Hanft (WordPress & Beaver Builder) in NY, veteran 48in48 volunteer Vikki Baptiste (SEO/Accessibility) in Illinois, and rounding out the map, Sumner Davenport called in from sunny California (Accessibility).
Sumner made a great key point over the weekend when she opened her session on accessibility by describing herself for individuals that couldn't see her. WOW! I've never seen that done before and personally never thought of it. Again, WOW. Makes you think about being more inclusive in what you say and do.
Our fearless event Project Managers were Karla Rangel, Danay Fernandez and Tricia O'Neill. They worked throughout the weekend assisting 28 teams, working tirelessly to create or improve new websites for the Nonprofits. Rounding out the weekend leadership team was Daphne Saavedra and myself, plus support from 48in48 staff.
In an effort to keep things fun and entertaining, we tried something new for this event: the Social Challenge in which teams received points for posting on social media with the #WBE22Challenge or @48in48 tags. Prizes went out to:
The team with the most points: Team Building to do S'more for Camp Massawippi – Center Mackay
Honorable mention: Team Esperanzas Six for Home of Potential & Excellence
Best team photos:

Team United for Tuba Farm Foundation Inc. (Honorable Mention)
Team Miss America Foundation (3rd place)
Team Esperanzas Six for Home of Potential & Excellence (2nd place)
The Great Cat Pack for Whiskers (1st place)
Congrats to all the winners!
Personally, I missed learning about women in STEM through Women's Trivia and watching others try to draw using your mouse or touchpad in Pictionary online!
Rounding out the weekend and possibly the hardest part was deciding which newly created or revamped sites won over our judges. A big thanks to our judges from State Farm, IBM, KMS, Verizon, Modo Modo Agency and Atlanta Marketing Association. I wouldn't want to be in their shoes. Our judges awarded:
That's a wrap, but before I sign off, a shout out also to all the "gents" that filled in at the last minute to help round out the teams.
Again, thank you all you wonderful people!!!
Stay safe 😊
Cheryl Budzinski, Assistant Program Manager
All About the Volunteers
written by Erin Hogan, Volunteer Recruitment Manager
Let's give a huge shoutout to all the volunteers who made 2022's Women's Event possible! Our sites at this event were built from the ground up by volunteers in 14 countries – Australia, Brazil, Canada, Chile, Germany, India, Italy, Jamaica, Mexico, Peru, the Philippines, Ukraine, the UK, and the United States. From corporations with hundreds of offices to agencies with only a handful of team members, industry professionals from diverse contexts came together in our teams to get websites built and ready for their Nonprofits.
It was so amazing to see so many women collaborating together and sharing their expertise in the creation of a beautiful product. Whether you worked on the content submitted by your Nonprofit, troubleshot the WordPress formatting, aligned your team's marketing vision, helped out an accessibility audit – however you got involved and pushed our mission forward this weekend, we are so grateful. 
Since the pandemic started, international participation has continued to grow with each of our virtual events. We are so excited to continue fostering a 48in48 community around the world. Shoutout to all the teams who worked out time zone differences to get their sites done, and those who stepped in last minute from our waitlist! We couldn't do what we do without you – see you in June for the Social Justice Event!
All About the Nonprofits
written by Mack Hodges, Nonprofit Recruitment Manager
We had Nonprofits from all over the country attend the 2022 Women's Build Event. Every US time zone, and 25 States were represented. We love hosting these events and learning about all of the unique initiatives that Nonprofits are tackling.
We had Nonprofits representing 10 out of our 15 different categories of service in this event. Women's Issues, Community Development, and Education were the largest categories.
Every volunteer, from the build volunteers to the planning committee, helped make the weekend the most successful event I have been a part of at 48in48. This was reflected in making the judges' jobs extra difficult. All of the websites built were scored within a few points of each other, with a minor range separating even first and last place. Having so many Nonprofits get high quality websites over the weekend will enable them to spread their message, secure donations and volunteers, and help them reach their goals. I know they are grateful, as am I, for the work top to bottom that it takes to make these events happen.
If you are interested in helping out, or know a Nonprofit that is in need of a new website, please reach out to us!