Nonprofit Spotlight: Atlanta CASA
New name, new chapter
Did you all know that Atlanta Court Appointed Special Advocates (CASA) has only existed for 25 years? It also surprised me that CASA's oldest unit, founded in Seattle, only began in 1977. From the time I can remember, CASA has persisted as a nationwide staple nonprofit with a household name. I expected CASA to have started decades earlier, because of the tremendous reputation they have instilled across the country. Over the span of 25 years, its Atlanta location has accomplished a wealth of growth, impact, and change. It has expanded its outreach at a rapid pace, responding to the enormous need that foster children hold as they proceed through the U.S. court system.
While Atlanta CASA celebrates its 25th anniversary this year, it has only claimed this name for a short period of time. Many of our Georgia-based readers might remember it as Fulton County CASA before 2020. Like many nonprofits this year, the organization has re-named and re-branded itself. To help fulfill that process, they participated in 48in48's September State Farm event.
I spoke with Richard Butler, Atlanta CASA's Community Development Coordinator and Recruiter, to hear the latest news on the organization's impact, upcoming events, and volunteer opportunities.
First of all, what need does Atlanta CASA address?
Atlanta Court Appointed Special Advocates (CASA) recruits, trains, screens, and supervises volunteers who provide advocacy for children who've experienced abuse and neglect. CASA volunteers give "voices" to the children they serve by understanding their needs and ensuring that their interests are represented in court.
As foster children make their way through the court system, their voices often go unheard in a system that doesn't have the resources to help get them on the right path. Richard's role at Atlanta CASA helps identify and recruit volunteers through reaching out to other organizations. These volunteers gain the tools and training to alleviate these children's experience in the court system.
Atlanta CASA's impact on the city alone currently affects over 400 children in the system. In serving these children, they save the community resources by minimizing the time children spend in court. Half of the time, children don't even have adult representatives, making the process more extensive and difficult for them. Atlanta CASA helps expedite that process to help children get through the court system with a more efficient and comforting approach.
What are upcoming initiatives that people can get involved with at Atlanta CASA?
The biggest initiative Atlanta CASA has right now coincides with GAGives, which finishes on December 1st. They aim for the community to reach out and raise $25,000 before that deadline. Alongside GAGives, people can reach out through Amazon Smile. If you sign up and choose Atlanta CASA as your nonprofit, a portion of the proceeds go to the organization.
While Atlanta CASA serves those in its local region, it remains very tied to National CASA and Georgia CASA. Their national conference took place just this week, where for the past seven years Atlanta CASA has volunteered its services. As speakers and facilitators at the conference, they mobilize as many volunteers as possible to participate.
In the meantime, Atlanta CASA found another active way for the community to get involved. A Mano, an Italian restaurant in Atlanta, chose the organization as their October nonprofit. This means that every Thursday of October (so just two left!), 5% of their proceeds go to Atlanta CASA. The nonprofit also has its Atlanta Night Out at A Mano on October 29th with an informational session that provides more intel for people getting involved.
With that said, Atlanta CASA has other events throughout the year (their Holiday Gift Wrap, for example) where volunteers can get involved either together with other volunteers socially distanced or individually to support the organization.
Why should people volunteer for Atlanta CASA?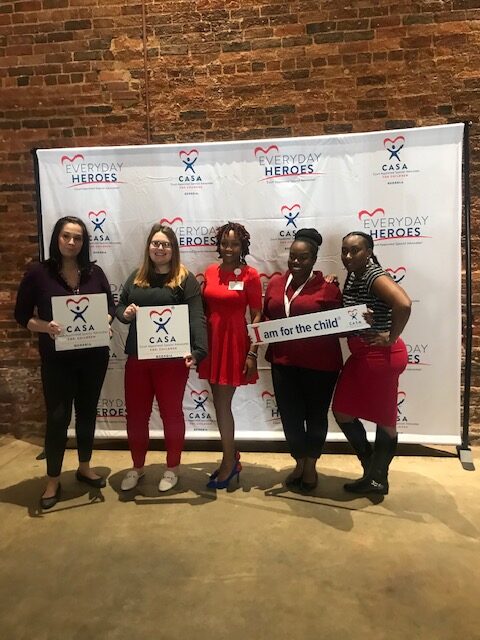 The need for volunteers has become more important than ever for Atlanta CASA. Butler affirms that "we know domestic violence and neglect is on the rise since COVID has hit. There is no debating that." Atlanta CASA (and many other locations across the country) will need volunteers to participate. This will prove especially crucial once court orders lift and children return to the court's care.
The 48in48 process and new website
Atlanta CASA has seen an increase in awareness since the website build at the State Farm event in September. They have also seen an uptick in the number of visits to the site. As a result, the sign-ups for information sessions have also improved since the website's creation.
Butler remarks on the work done before the build, saying, "I learned an awful lot. It was really interesting because I didn't know a lot about white space, I didn't know how to make a site flow and the results that would come from that. 48in48 made it a lot more fluid…it helped to highlight what the next steps were. Getting everything together just taught me more about our organization, not just 48in48."