48in48 Volunteer Spotlight: Anna Rodriguez
Relentless Dedication to Having Fun
Anna Rodriguez is a Senior Solutions Architect at Parsons who came to 48in48 through the recommendation of a good friend who had previously volunteered at a 48in48 build event. They originally planned to volunteer together, but when that plan fell through, Anna decided to approach her company to see whether they would support her inviting her work team — Parsons agreed. Well, folks – that was four build events and eleven websites ago! During the recent June Social Justice event, Anna coordinated 48 volunteers from Parsons for a combined impact of 7 Nonprofit websites completed over the weekend.
"People Are Looking for Ways to Connect"
Providing individuals with a way to satisfy their desire for connection: this is one of Anna's secrets as an organizer. People want to be involved and share their skills so the key, she points out, is to do a great job of communicating the win-win-win of volunteering. That – and making it really fun! Anna first brought her Parson's team – pre-Waahi – when the 48in48 build events were live (remember that?). But Anna's team has always been distributed, which meant they did not have access to the speaker presentations and other events hosted by 48in48 and therefore planned their own thought-provoking breakout sessions.
Giving Back
The feedback Anna receives from Parsons volunteers is amazing. It's a huge give-back opportunity for them and they are aware of the impact they are making: it's not just the build itself, it's all those impacted by the work the Nonprofits are doing, so the impact extends to thousands of people who are positively impacted by these events. It has been amazing in terms of team building for their company. It's not always easy to get people to bond over Zoom, but it happens for their teams at these events. In the absence of personal risk – and understanding that if something goes wrong, it's not the end of the world – people are able to relax and enjoy the experience together, and feel good about the work they are doing.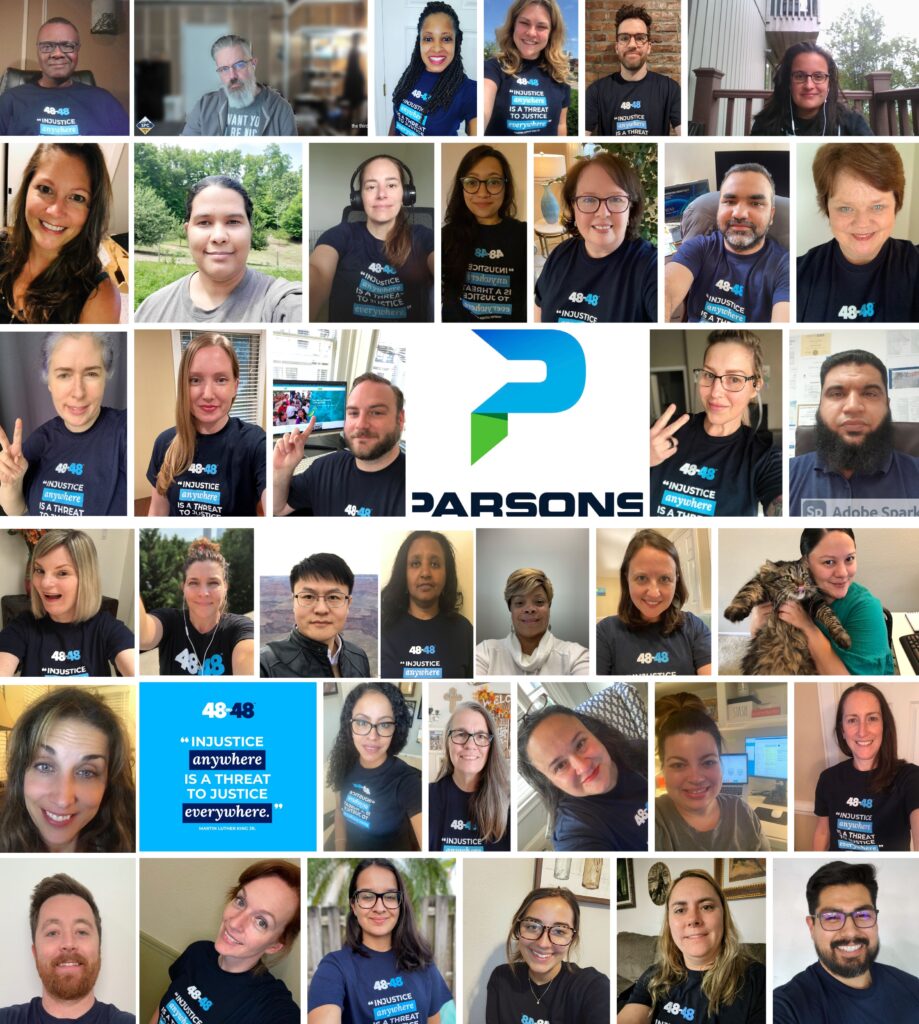 A Good Website Makes the Difference
The moment that the positive impact culminated emotionally for Anna was when working on the website for "Empower Our Youth," which brings awareness to and empowers youth with tools to combat bullying. Anna was aware that the founders had started the organization because their daughter had struggled with potentially devastating effects of childhood bullying. The website the Nonprofit started out with was not good and incomplete – including placeholder language still taking up space on some of the pages. So, in addition to a great website, one member of her team also made them a new logo. Toward the end of the build, during the call when they walked the Nonprofit through what they had built, the folks on the call for the Nonprofit cried – real tears. They were overwhelmed with how awesome the new site and logo were. They kept asking, "Can we really use this!?". "That was huge," says Anna, knowing that a good website can make the difference between helping someone and not.
Fun Facts About Anna:
What is one personality trait you simply have no time for?

"Fear: personally I just do not have time for it."

Which do you prefer, logic or creativity?

"I'm right in the middle. I appreciate those who can appreciate and understand logic, but there's nothing like creative expression. Both are essential."

What inspires you?

"100%: my sons. One is in a Getty image that was shared and then featured by The Shade Room – he's a social justice warrior; at only fifteen years old is organizing and giving speeches; he feeds the homeless, is involved with BLM. My other son is hilarious and keeps me happy at home."

What are you known for?

"Relentless dedication to having fun at all times!"
Are you interested in volunteering like Anna? Please sign up as an individual or with your company for an upcoming build event!